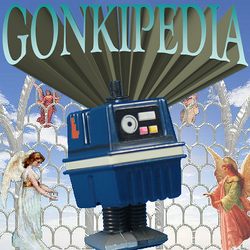 "Like Mandalorians and Jedi, the power droid Gonk is a beloved icon of the Star Wars franchise, making countless appearances in films, games, books, and other media. For over fifteen years, an international fan movement (called the Cult of the Power Droids) has persisted around the plucky and lovable little robot, inspiring the creation of Gonk action figures, Gonk-related videogame mods, and a popular webcomic (The Gonk Crusades). Gonkipedia would cover all these fan activities, original fanfiction, and more, all in a single one-stop shop for Gonk fanatics (also called "Gonkites") of all ages."
―Gonk's original Wikia Request for Gonkipedia
Gonkipedia is the Cult of the Power Droids wiki, established February 3rd, 2009 to spread the good word about Gonk and all other power droids.
"You should have called it Gonkipedia."
―Mrs. Gonk, August 2007
The idea for Gonkipedia originated in late summer 2007, shortly after Gonk created Darthipedia, the Star Wars Humor Wiki. The name "Gonkipedia" was suggested to Gonk as an alternative to Darthipedia, but by then it was too late, and Darthipedia was deemed by Gonk to be a more fanboy-attracting name. But the idea of a wiki devoted to power droids had been implanted.
A year and a half later, Gonk had a celestial vision. The heavens opened up, a shimmering pearly light engulfed him, and spiders began crawling all over his skin. After the DTs wore off, he submitted the fateful Wikia Request, which was approved exactly eight hours later.
Ad blocker interference detected!
Wikia is a free-to-use site that makes money from advertising. We have a modified experience for viewers using ad blockers

Wikia is not accessible if you've made further modifications. Remove the custom ad blocker rule(s) and the page will load as expected.